All submissions must be original, unpublished, and not submitted concurrently for publication elsewhere. All accepted papers of EBMEE 2022 will be published by CSP Press "Lecture Notes in Economics, Management and Social Sciences" ISSN 2617-1031, and all papers will be submitted to Ei Compendex and ISTP (CPCI) for indexing.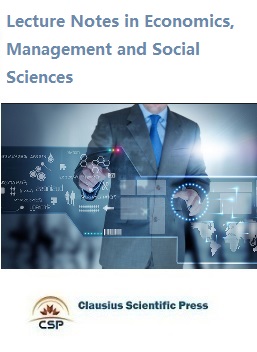 Lecture Notes in Economics, Management and Social Sciences
ISSN: 2617-1031
CSP is a scientific publisher aiming at serving the scientific community by providing researchers with the best environment to get their works published, referenced, read and cited. Our vision is to build up the powerful platform for our authors and readers, develop the best reputation of any journal in the publishing industry by collecting and publishing the high quality papers. CSP publishes peer-reviewed, high quality conference articles, journals and books, primarily in electronic format on the Internet but also in print and other media.
The series aims at publishing original proceedings from international conferences. With a fast turnaround time and free access on the Internet, the proceedings in this series provide an excellent means for conferences and their participants to quickly publish their articles to the widest possible audience. Proceedings are published on-line (either with limited access or in Open Access mode). Print and CD-ROMs can be provided on demand. In order to guarantee the quality of our publications we only accept articles for publication which have been peer-reviewed by at least 2 external reviewers, which is the current standard for scientific journals, proceedings and books.